Gallery Vault - Hide Pictures And Videos
3.14.68
Encrypt Photos and Keep Them Safe
Are you concerned about the privacy of your photos? Do you want to encrypt photos and keep them hidden from other people? If yes, then this app is an ideal choice for you. Gallery Vault – Hide Pictures And Videos is a cool app that allows you to hide all your private photos, videos, and data in a secure vault. It enables you to encrypt your data and ensures that no one other than you can view it. You can set a password for the app which only you know and then look everyone out. Moreover, there is even an option available to hide the icon of the app so that no one is aware of the existence of a photo vault.
Gallery Vault – Hide Pictures And Videos has a user-friendly interface that goes along well with its intuitive design and layout. Thus, anyone can use it for protecting their sensitive and private data. Hiding photos using this app is very easy. You just have to select the photos you want to hide and then click ok. This app allows you to select the photos individually, in bulk or even complete folders. Once you have made your selection, the app encrypts photos and securely places them in its folders. Do keep in mind that if the photos are saved in the cloud then they might still be visible in your gallery. You need to manually delete them from there to hide them completely.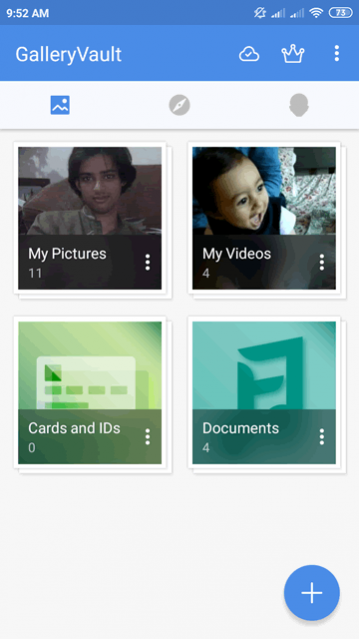 This app doesn't just let you encrypt photos. It lets you encrypt videos too. The same procedure will be followed for hiding videos like the one used for hiding photos. Your chosen videos will be kept safely in the videos folder. You can add new folders to the app's home screen if you want. Just click the '+' button located at the bottom-right corner of the screen. It will open a menu in which you will find the option to create a new folder. You can hide any data you want in this new folder you have created. The photos and videos you hide in this app will only be visible to you if you remember the password to the app. So, make sure that you set a password that you don't forget.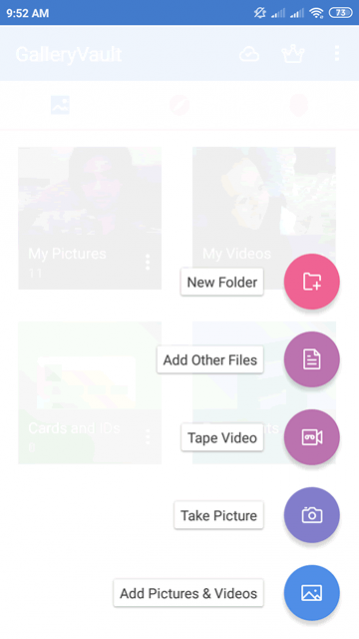 Gallery Vault – Hide Pictures And Videos is also a haven for your sensitive data files. You can encrypt files in different formats and store them in the Documents folder of this app. The files you want to hide in this app can be sourced either from your phone or any cloud storage service. Each file is encrypted before it is saved so that it can't be viewed by others. In addition to hiding data, this app also lets you browse the internet anonymously by offering a Private Web Browser to you. This feature allows you to ensure the privacy of your internet activity.
Features:
User-friendly interface
Intuitive design and layout
Hide all your private photos
Keep all your videos locked away
Protects your sensitive data files
Hide data files of various formats
Option available to hide the app's icon
Encrypts photos so no one can see them
Set password for opening the app
Private Web Browser for safely browsing the internet
Hide files in SD card to keep them safe
Save storage space by moving encrypted files to SD card
No storage limit
Conclusion:
Gallery Vault – Hide Pictures And Videos is an app that is ideal for people who fear about the privacy of their data a lot. It enables them to encrypt photos and keep them hidden from prying eyes. It is an excellent app to have on your phone if you don't want other people to gain access to your photos.
---
Add a review
Tell us your experience with
Gallery Vault - Hide Pictures And Videos
3.14.68
RELATED PROGRAMS
Our Recommendations
---
---
---
---